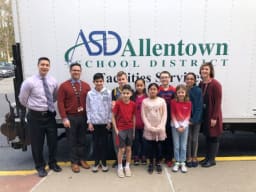 Thank you for your generosity in our book drive. We were able to donate over 1,200 books to Muhlenberg Elementary students. Student government was able to meet with the principal and he expressed his appreciation. The students of Muhlenberg Elementary are going to enjoy all the great books!
KINDERGARTEN REGISTRATION
Registration for children eligible to attend kindergarten in the 2020-2021 school year will be on Tuesday, March 3, 2020. Please call the Cetronia office at 610-351-5860 to make an appointment. There will be no school that day for current Kindergarteners ONLY
2/14: Holiday - No School
2/17: Holiday - No School President's Day
· Special Read Across America Dress Up Days:
Wednesday, February 26th - Wear a t-shirt from a favorite destination for Oh, the Places You'll Go
Thursday, February 27th - Wear the color green for Green Eggs and Ham
Friday, February 28th - Wear crazy socks for Fox in Socks
Monday, March 2nd - Wear red, white, and black or any Dr. Seuss themed outfit
Staff Lounge Fundraiser-Pay It Forward to the Cetronia Staff this Valentine's Day
Attention 5th grade parents:There are some great opportunities coming up to help you and your child learn more about Springhouse
Middle School. Complete details here
Spiritwear
Instead of a yearly spirit wear sale, Cetronia families and staff will have their very own hedgehog locker-room open 24-7, 365 days a year. 10% of all Squadlocker orders come back to support the Cetronia SOS fund. This account is used when unexpected hardship or other unforeseen circumstances impact our students/families. Squadlocker is always open https://teamlocker.squadlocker.com/#/lockers/we-are-the-hedgehogs
Important Reminders:
Absentee Hotline: 610-351-5900, extension 23711
Absentee Email: CTATTENDANCE@parklandsd.org
Please don't forget to call the absentee hotline, or send an email, by 9:00 am to report your child out of school.
A phone call is required for each day that your child is absent from school. Your child will be marked with an unlawful absence until we receive a call or note, which should be received within 3 days of the absence.